Stay current with Mastercam 2017 Training Solutions
---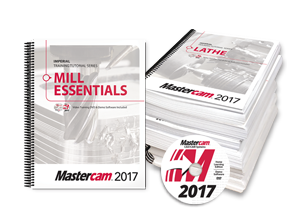 Training Tutorials
Our popular line of Mastercam Training Tutorials cover every Mastercam application, offering the most extensive collection of Mastercam training solutions available. Each book contains a series of tutorials that guide you through creating geometry, applying then verifying toolpaths and generating G-Code.
• 20 large volumes covering every Mastercam application – average book is 590 pages.
• Choose imperial or metric, print or eBook (PDF) versions.
• Step by step tutorials with helpful hints, review exercises and quizzes.
• Includes Mastercam Home Learning Edition Demo Software.
• Mill Essentials, Mill Advanced, Lathe and Multiaxis Essentials include video training DVD.

Buy Now!
---

Professional Courseware
The Mastercam Professional Courseware titles are intended for industrial training settings. Instead of step-by-step instructions, these books introduce concepts through sequences of specialized training exercises followed by parts the users are expected to produce with minimal guidelines.

Buy Now!
---

Handbooks
The Mastercam 2017 Handbooks provide an academic approach to teaching the theory and application of Mastercam throughout Handbook Volume 1, Volume 2 and Volume 3. Designed to teach the fundamentals of Mastercam, they gradually work up to more complex material. Each Handbook comes with a Student DVD that contains files referenced within the book and the Mastercam 2017 Home Learning Edition DVD.

Buy Now!
---

Instructor Kits
This is the ultimate toolkit for instructors looking to enhance their 2D mill, 3D mill and lathe classes while minimizing prep time. Instructor Guides and Training Tutorial books are included in each kit, which contain tests, quizzes, finals, mid-terms, powerpoint presentations, lesson plans, answer sheets, and more.

Buy Now!
---
Mastercam eCourses
Expand your Mastercam knowledge with these step-by-step online video eCourses. They provide both novice and seasoned users with the tools and information they need to excel in four different subjects. Each eCourse includes online tutorials and quizzes, a corresponding eBook, a download of the Mastercam 2017 Home Learning Edition Demo Software and a certificate of completion at the end of each eCourse.
Lifetime access!

Buy Now!
---
Video Training
These Training DVDs feature fully narrated videos that are a useful set of tools for beginners and seasoned Mastercam users alike. Ideal for someone who prefers to learn visually, you follow along with one of our Mastercam trainers.
• Purchase each DVD individually or as a bundle, Mill Essentials, Mill Advanced and Lathe in one bundle, Multiaxis Essentials in the other.
• Mastercam 2017 Home Learning Edition DVD included.

Buy Now!
---